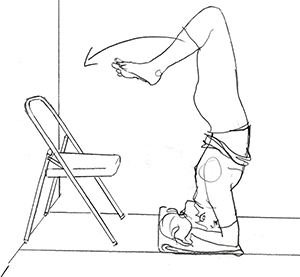 Place a chair against the wall, seat facing outward. Place your four-fold sticky mat around 12 inches from the front legs.
Hop up into Sirsasana (see July).
To drop back you now have to forget (almost) everything you hold dear about Sirsasana. Let go of the idea of holding the torso into an upright position. Without dropping them, curve the ridge of the shoulders toward the chair. Let the middle torso move forward away from the chair and begin to curve back toward the wall — you are making the shape of a wheel.
Place your feet on the wall, to begin with, one at a time.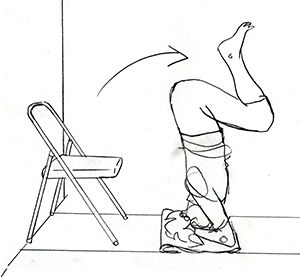 Hop back from the wall to the floor. Now that you know where you are in space, hop from the floor to the wall — keep your knees together. Grip your tailbone into the pelvis as you reach for the wall with the balls of your feet.
When you can do this with both legs together, you are ready to walk your feet down to the top of the chair rest.
With knees bent and landing with both feet together, hop back to the floor. If you land on one foot, you will jam your sacrum. Swing your pelvis away from the wall so you create the momentum needed to spring off the wall. Allow your legs to trail your torso and pelvis as you return your feet to the floor.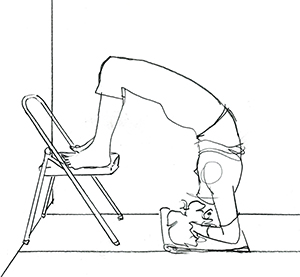 When you are ready, walk your feet down onto the chair seat (or add height, place something onto the chair seat – old telephone book/coffee table book etc.) Hop back up and over, landing on both feet again.
Practice moving rhythmically from the wall/chair back/ chair seat (whichever is appropriate, whichever you are ready for) to the floor, and back again in an unbroken rhythm.